Published: Tuesday, October 20, 2020 11:56 AM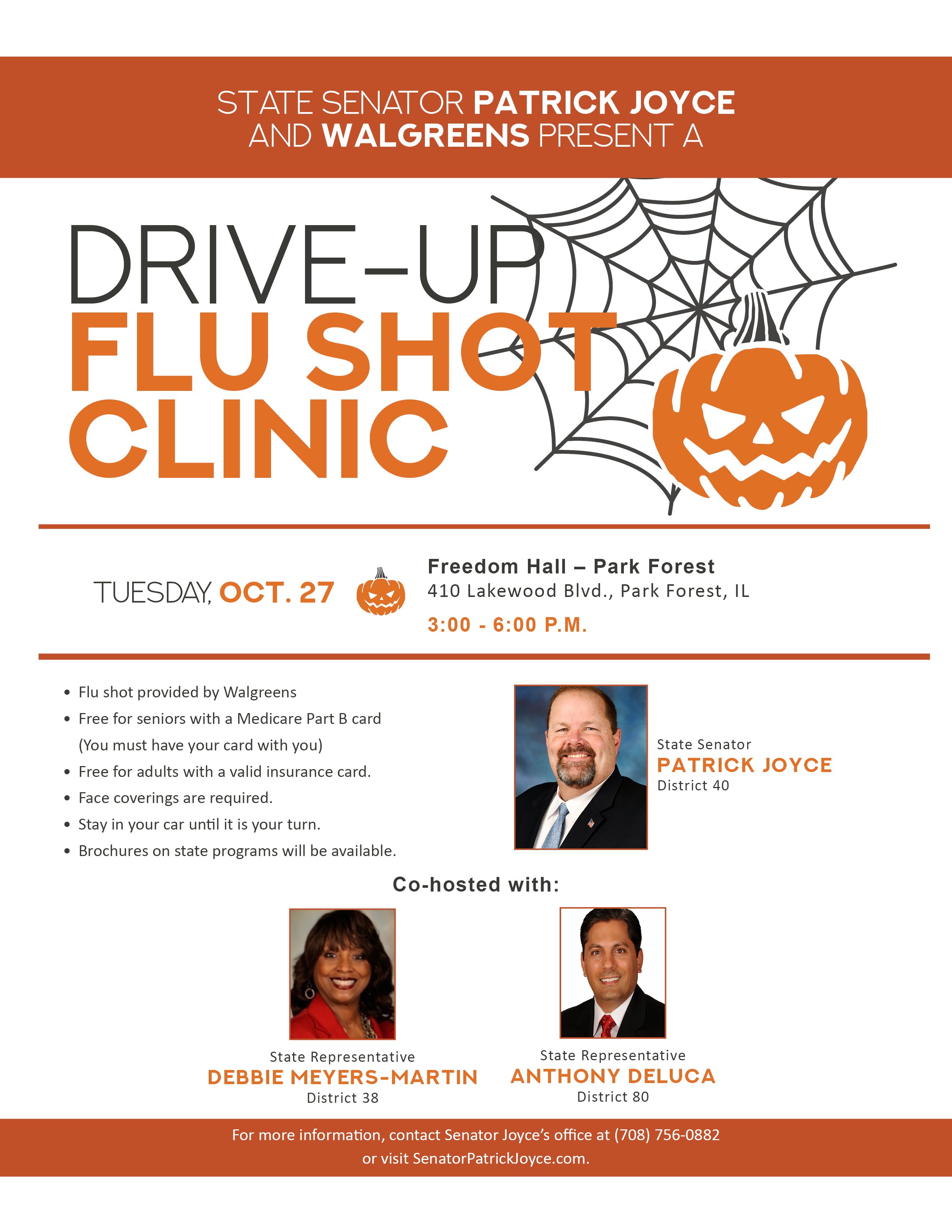 PARK FOREST – As flu season approaches, State Senator Patrick Joyce (D-Essex), State Representative Anthony DeLuca (D-Chicago Heights), and State Representative Debbie Meyers-Martin (D-Olympia Fields) will co-host a drive-up flu shot clinic Tuesday, Oct. 27 from 3-6 p.m. in the parking lot of Freedom Hall, located at 410 Lakewood Blvd. in Park Forest.
"Getting a flu shot is an easy way for Illinoisans to protect themselves and their families from the flu," Joyce said. "This drive-up clinic will make getting a flu vaccine easier and more convenient for folks, while abiding by IDPH's health guidelines."
The lawmakers are partnering with Walgreens to host the clinic, which will be held outdoors in a drive-up format to allow appropriate social distancing. Masks will still be required, and safety precautions will be in place to promote a safe and healthy environment for everyone. Participants are required to bring their insurance card and photo ID to receive a flu shot.
"With winter approaching, it's important we are prepared, like getting an annual flu shot," DeLuca said. "It will help keep ourselves and our family safe and healthy."
This is event is open to the public and caters to all ages.
"As we enter the fall flu season during this pandemic, it's more important than ever to get a flu shot for you and your family's health," said Park Forest Mayor Jonathan Vanderbilt. "That is why I'm proud to partner with Senator Joyce and Representative DeLuca to protect the health of our residents."
In addition to getting a flu vaccine, Joyce reminds residents to continue to wear a mask, wash their hands often and watch their distance.
For more information, contact Joyce's office at 708-756-0882 or visit SenatorPatrickJoyce.com.
Category: Events